Learn How to Deliver a Powerful, Captivating Speech
Executive speech coach, Liz de Clifford, works with top executives, sales teams, and high-fee professional speakers to help them transform their presentation skills.   Liz is a keynote speaker who has presented at corporate and executive events all over the world, including the United States, Australia, Europe and South America.  She shares her knowledge with other professional speakers globally who want to deliver a compelling message that leaves a lasting impression.
Liz provides:
In-person or virtual coaching
Speaking & presentation skills coaching
Executive speech coaching
Keynote speech coaching
Sales presentation coaching
Contact Liz today to learn more about how she can help you elevate your speaking skills and take your speech to the next level.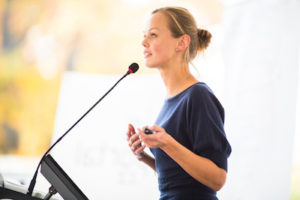 Contact Liz
What Impact Do You Want to Make?
Liz Can Help You Craft & Deliver a Speech That Leaves Your Audience Inspired
Contact Liz