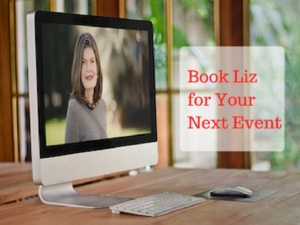 Need a Powerful Speaker for Your Next Event?
Liz has years of experience presenting to professional organizations and executives all over the world. Liz's topics encompass effective leadership and communication skills, common communication mistakes people make, and raising funds for non-profits.  To learn more about Liz's event topics, click on the button below or contact Liz today.
Venture Capital presentations

Body language / Non-Verbal presentation
What Client's Say About Liz
"Liz helped me refine my presentation until I was comfortable with it's flow and shared her knowledge on everything from varying your voice to how to hold a laser pointer. Liz draws on her extensive experience to create presentation strategies; furthermore, she is simply a pleasure to work with. I look forward to using her expertise again in the near future."
"Ms. de Clifford coached me for my oral defense for the JSD, the most advanced law degree. Ms. de Clifford analyzed this exam situation in detail for me. She pointed out the group dynamics that come into play in this setting. She then role played the exam situation with me which helped tremendously, reducing my anxiety. I highly recommend Ms. de Clifford for her superior coaching and versatility."
"Elizabeth brought her knowledge and insight to a presenation for the editors guild and she clearly answered all our questions. Her patience and warmth put everyone at ease, and the feedback from our members unanimously praised the quality of her presentation."
Contact Liz
Improve Your Communication Skills, Get Promoted at Work, Perfect Your Presentation.
Start the Process Today!
Contact Liz